College of Agriculture, Food and Environmental Sciences (CAFES) Ambassadors
The CAFES Ambassadors is a college-wide student organization who serve as the leadership and public relations team for the College of Agriculture, Food and Environmental Sciences (CAFES). The 2021-22 academic year will be the 33rd year the organization has worked to promote the college to prospective students, alumni, industry and government partners, donors and other stakeholders. The CAFES Ambassadors have been a positive influence on the quantity as well as the quality of applicants admitted to CAFES.
To stay up to date on CAFES Ambassadors' activities, visit their Instagram account.
To join CAFES Ambassadors or learn more, email CAFESambassadors@calpoly.edu. 
Spring 2022 Tours
CAFES Ambassadors are hosting campus tours for prospective students every Monday, Tuesday, Thursday and Friday from 3-4 p.m. throughout spring quarter. We are also hosting virtual tours on Zoom once per month. You can register for these tours at Cal Poly Visit or by emailing CAFESAmbassadors@calpoly.edu.
2021-22 Officer Team
Ashley Waymire — President
Animal Science
Hometown: Visalia, CA
Payton Paschoal — Vice President
Agricultural Communication
Hometown: Winters, CA
Kiara Benavides — Secretary/Treasurer
Agricultural Science
Hometown: Woodlake, CA
Allison Stauffer — Tours Chair
Food Science
Hometown: Huntington Beach, CA
Katey Diniz — Recruitment & Retention Chair
Agricultural Business
Hometown: Bakersfield, CA
Haley Konoval — Publicity Chair
Animal Science
Hometown: American Canyon, CA
Camryn More — Alumni and Fundraising Chair
Nutrition
Hometown: Salinas, CA
2021-22 Senior Ambassadors
| | | |
| --- | --- | --- |
| Name | Major | Hometown |
| Andrew Arroyo | Agricultural Business | Santa Paula, CA |
| Abbie Brown  | Animal Science | Elk Grove, CA |
| Nicolette Collier | Experience Industry Management | Valencia, CA |
| Susanna Hoffman  | Experience Industry Management  | Monterey, CA |
| Aidan Inoue | Agricultural and Environmental Plant Sciences | San Jose, CA |
| Jared Mandrell  | Agricultural Communication | Morgan Hill, CA |
| Catherine Ogden  | Experience Industry Management | San Antonio, TX |
| Laila Rollin  | Agricultural Science | Riverdale, CA |
| Emily Sarantopulos  | BioResource and Agricultural Engineering  | Elk Grove, CA |
| Ashley Tartaglia  | Animal Science | Earlimart, CA |
| Lucas Terk | Agricultural Business | Oakland, CA |
| Kai Tran | Environmental Management and Protection |   |
Becoming a CAFES Ambassador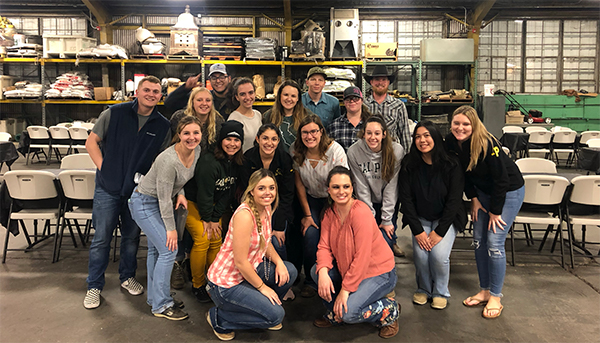 CAFES Ambassadors are comprised of general members and Senior Ambassadors. All CAFES students are encouraged and welcome to participate in the CAFES Ambassadors organization by attending meetings to hear from industry speakers, participating in chat and information sessions with prospective students, or in events such as Open House.
CAFES Senior Ambassadors are selected following an application process and represent all of the college's 15 majors and also serve as a student advisory panel for the college. Ambassadors are chosen through a selection process and enjoy opportunities to enhance their leadership skills while gaining invaluable knowledge about Cal Poly and the agriculture, food and environmental sciences industries. They also develop close working relationships with the CAFES dean, dean's advisory council, and other college leaders.
CAFES Ambassadors begins recruiting new members and at the start of each Fall quarter, and CAFES Senior Ambassadors at the end of Fall Quarter. The application process to become a CAFES Senior Ambassador includes submission of a written application and attendance at one mandatory information session. Once written applications are received and reviewed, a limited number of applicants are invited to in-person interviews with the current officer team. You must attend one info session along with submitting a completed application.
Related Content