Departments & Majors
Cal Poly's College of Agriculture, Food and Environmental Sciences has nine undergraduate departments that offer 15 individual majors and 22 minors. To find out more information, such as required courses and career opportunities, visit the department websites below.
Learn more about our Graduate Degree Programs.
See the latest published research by our faculty here.
Cal Poly's Agribusiness Department is well known for producing future agribusiness leaders.  Our graduates have a global perspective and are exposed to the world's dynamic environmental, political, economic and social environments.
Majors:
Agricultural Business
View Fact Sheet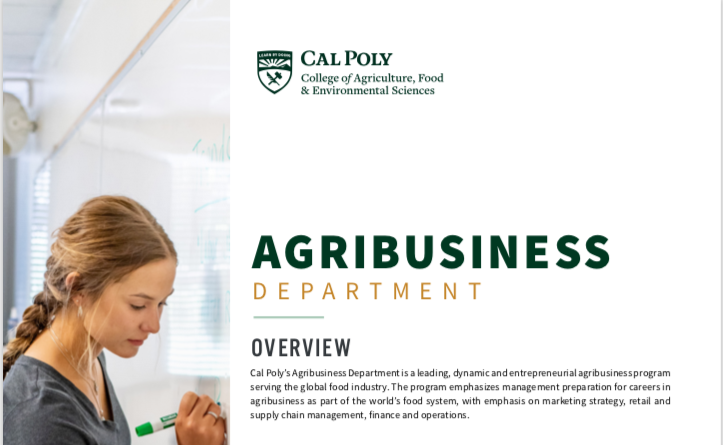 If you are excited about agriculture and want to let others know about it, Agricultural Education and Communication is right for you.  Our graduates come from a wide variety of backgrounds and share a passion for communication and teaching.
Majors:
Agricultural Science
Agricultural Communication
View Fact Sheet

Cal Poly Animal Science boasts one of the most comprehensive hands-on programs in the nation and is known as a national leader of undergraduate training in animal nutrition and reproductive physiology.
Majors:
Animal Science
Dairy Science
View Fact Sheet

BioResource and Agricultural Engineering at Cal Poly is the study, teaching, and practice of engineering and systems management support for agriculture. From day one, our students Learn by Doing in laboratory-intensive classes.
Majors:
Agricultural Systems Management
BioResource and Agricultural Engineering
View Fact Sheet


"Live it, protect it, explore it."  Cal Poly's Recreation, Parks and Tourism Administration major is founded upon that motto. 
Majors:
Recreation, Parks and Tourism Administration
Cal Poly's Food Science and Nutrition Department offers comprehensive education in food science and nutrition, from the development of new foods to the study of how foods impact health, wellness, and disease prevention.
Majors:
Food Science
Nutrition
Cal Poly's Horticulture and Crop Science department is well-known for preparing the next generation of industry leaders. Our students don't just sit in a classroom.  They work outside in our fields and gardens and inside our labs. 
Majors:
Agricultural & Environmental Plant Sciences
View Fact Sheet

For the past four decades, Cal Poly Natural Resources Management and Environmental Sciences has been preparing passionate leaders who drive change in sustainability and stewardship of the environment.
Majors:
Environmental Earth & Soil Sciences
Environmental Management & Protection
Forestry & Natural Resources (Name changed for 2021 to Forest and Fire Sciences)
View Fact Sheet

Cal Poly offers a unique, award-winning interdisciplinary major in Wine and Viticulture with a three-pronged curriculum that combines an understanding of vineyards, wine making, and wine business.
Majors:
Wine and Viticulture
View Fact Sheet

Related Content