Contact the CAFES Advising Center
The CAFES Advising Center supports undergraduate students with their transition and integration into Cal Poly. The center's staff provides accessible academic advising that guides students to clear pathways of success and timely graduation.
We are currently working remotely and are available at the emails listed below.
Catherine Kleier, Ph.D.
associate dean, Student Success, Diversity, Equity and Inclusion
 ckleier@calpoly.edu
 805-756-2161
 Building 11-211
Dr. Kleier joined the College of Agriculture, Food and Environmental Sciences in August 2020.  She advances student success by guiding undergraduate advising, and oversees diversity, equity, and inclusion efforts, student degree completion and retention, and student leadership programs. Before joining Cal Poly, Kleier served as department chair and interim honors program director at Regis University in Denver, Colorado. While at Regis, she was awarded the Carnegie Foundation Colorado Professor of the Year, a National Geographic Waitt Foundation Grant, and a Fulbright to Dunedin, New Zealand.  She also helped to start the Applied Craft Brewing Certificate at Regis University.
Kleier earned a bachelor's degree in biology from Colorado University-Boulder, a master's degree from Oregon State University, and a doctorate degree from UCLA.
Arianna Lambert
Administrative Support Assistant
 arlamber@calpoly.edu
 805-756-7574
 Building 74M-A100
Arianna Lambert received her bachelor's degree in biological sciences from Cal Poly.
Dianne Korth
Lead academic advisor
experience industry management
director of the map center
 dkorth@calpoly.edu
 805-756-5057
 Building 74M-A100
Dianne has worked as an academic advisor at Cal Poly since 2011. She has a bachelor's degree in government from California State University, Sacramento, and a master's in education with a specialization in counseling and guidance from Cal Poly.
Cathy Bartholomew
academic advisor
bioresource and agricultural engineering
food science and nutrition
 bartholo@calpoly.edu
 805-756-5082
 Building 74M-A100
Cathy previously worked as an academic advisor at Azusa Pacific University. She also worked as an adjunct professor teaching English, managerial communication and conflict management and negotiation.
BioResource and Agricultural Engineering Advising Website
Leanne Berning, Ph.D.
faculty and advisor
dairy science
animal science
 lberning@calpoly.edu
 805-756-2697
 Building 10-140
Dr. Berning is a longtime faculty member in the Animal Science Department. Read Dr. Berning's full biography here.
Meagan Groom
academic advisor
horticulture and crop science
natural resources management and environmental sciences
 groom@calpoly.edu
 805-756-5071
 Building 74M-A100
Meagan has worked in higher education as a student affairs professional for more than six years, working with both traditional and non-traditional students. She earned a bachelor's degree in education from Multnomah University and a master's degree in higher education from Portland State University. On the weekends, she enjoys locally roasted coffee and building impressive sand castles with her kids.
Horticulture and Crop Science Advising Website
Natural Resources Management and Environmental Sciences Advising Website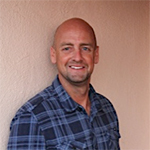 Craig Hooper
academic advisor
agribusiness
 crhooper@calpoly.edu
 805-756-5019
 Building 10-252
Craig has worked as an academic advisor at Cal Poly since 2008. He received a degree in kinesiology from McMaster University in Hamilton, Ontario, and a master's degree in theology from Biola University in La Mirada, Calif.
Kristin McCain-Bender
Academic Advisor
Agricutlure education and communication
wine and viticulture
 krbender@calpoly.edu
 805-756-7423
 Building 74M-A100
Kristin grew up in California's Central Valley and began her academic advising career in 2005. She attended Modesto Junior College before transferring to Liberty University where she earned a bachelor's degree in psychology and a master's degree in counseling. She came to Cal Poly as an EOP (Educational Opportunity Program) Advisor in 2007. She is the academic advisor to the Wine and Viticulture Department and the Agricultural Education and Communication Department.
Agriculture Education and Communication Advising Website
CAFES Advising Center Peer Advisors
 805-756-7574
 CAFES Advising Center, Building 74M-A100
Related Content