Student-Made Products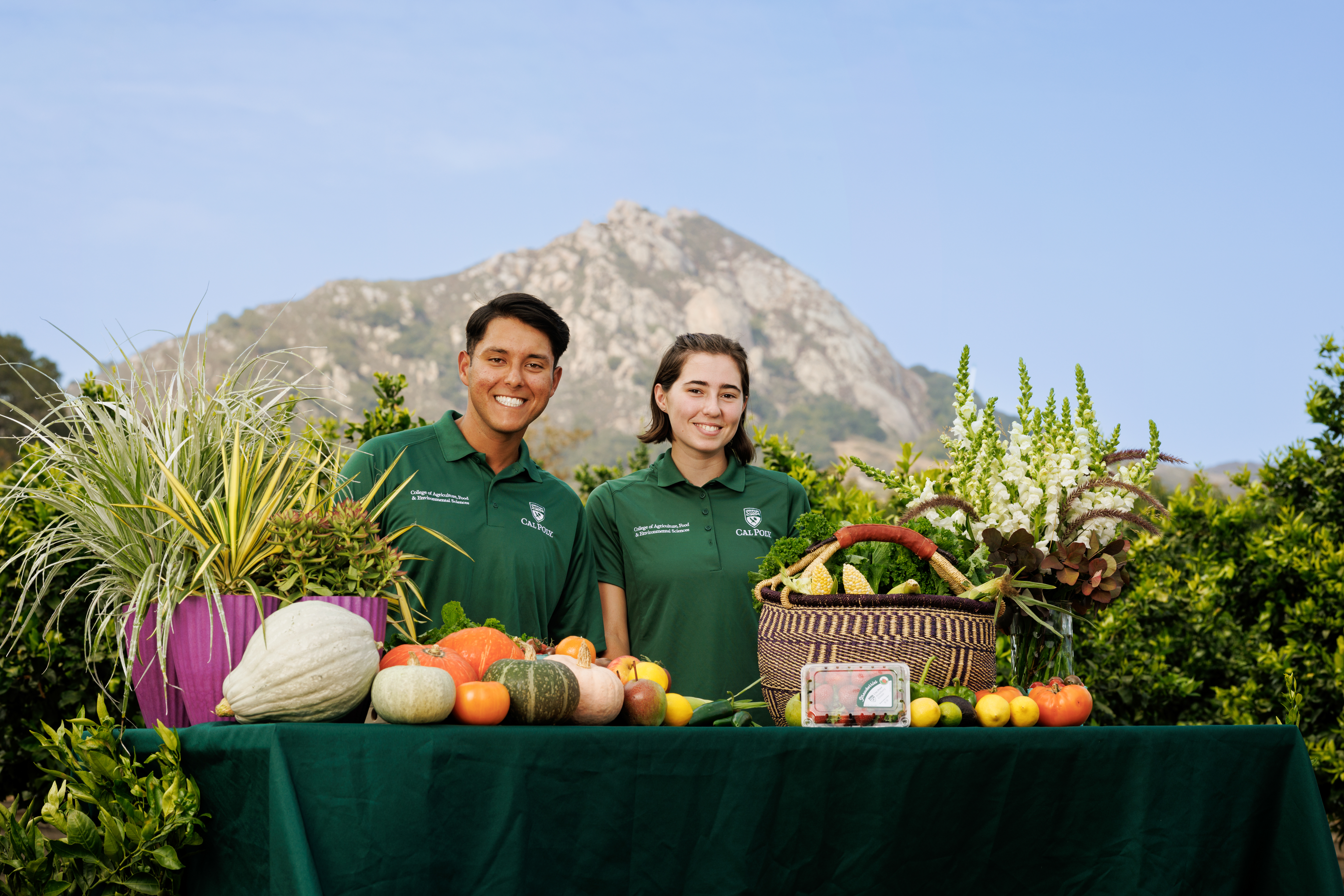 Cal Poly's Learn by Doing tradition means that the university's College of Agriculture, Food and Environmental Sciences produces a variety of student-grown and student-made food, flowers, plants and more that are for sale throughout the year to both the campus community and the general public.
Some are produced as part of hands-on lessons in college classes. Others are enterprise projects, in which the college provides resources, and students provide labor in design, production, packaging and marketing under the supervision of faculty. They allow students to gain even more hands-on experience across the spectrum of agriculture, food and environmental sciences and experience real-world situations that prepare them for successful careers.
The mission of our food production programs is to supplement our student's curriculum with hands-on learning and practical experience. Through this program, they get exposure to research and development, good manufacturing practices, total quality assurance, food safety and sanitation principles, as well as experience in sales and marketing for our value-added products. These activities provide students an opportunity to fortify the skills learned in their classes to prepare them for their future career in the food industry.
You can find our products right here on campus at the Cal Poly University Store (and downtown SLO), Campus Market, Cal Poly Meat Processing Center or Village Market. We also sell our products at a number of local grocery stores and gourmet shops. You can also order products online at the Cal Poly University Store.
---
Cal Poly BBQ Sauce
In 2013 Cal Poly Food Science and Nutrition Production came out with two BBQ Sauce flavors, Sweet Hickory and Fiery. These products were the basis of a senior project in 2017, a group of students reformulated the sauces to meet market demands by eliminating high fructose corn syrup and xanthan gum from the formulation. Since the reformulation these sauces have become a hit and we have heard folks use these sauces on everything from ribs to chicken nugget dip.
Sweet Hickory BBQ Sauce
The molasses in this product make it rich, while the hickory smoke blends everything together. A great addition to the family BBQ,use as a dip, spread on a wrap or use as an ingredient!
Fiery BBQ Sauce
Just a small kick of spice brings this sauce together and will soon be a family favorite!
---
Cal Poly Cheese
Cal Poly Cheese Produces seven varieties of gourmet cheeses at the Cal Poly Creamery. They are available for ordering through the Cal Poly Cheese website and at Campus Market.
---
Cal Poly Chocolates
Cal Poly Chocolates was started in 2000 by now retired Food Science and Nutrition Faculty member Dr. Tom Neuhaus.  Cal Poly Chocolates uses Fair Trade Organic Chocolate (32% Cocoa Milk, and 65% Cocoa Dark) to produce a chocolate bars for sale.  Student employees learn about the science and art of chocolate making and some of the tools and equipment used to make all things chocolate.   Cal Poly Chocolates has many flavors, but our Milk Chocolate Bar and Dark Chocolate Bar are our most popular.  Some current, seasonal and limited-edition flavors you might see on the shelf are: Milk, Dark, Raspberry Crisp, Coffee Crunch, Peppermint Crunch, Zesty Orange, Green Tea Matcha Milk Bar, Birthday Cake, Toffee Crunch, S'mores, and Hot Habanero. 
Follow Us On Social Media
Cal Poly Chocolates on Facebook (@calpolychocolates)
Cal Poly Chocolates on Instagram (@cal_poly_chocolates)
---
Cal Poly Eggs
Poultry Center Office
(805) 756-7336
Cal Poly's egg production program is comprised of 14,000 chickens and more than 3.3 million eggs a year. Cal Poly Eggs are sold in grocery stores around the Central Coast, and in the Campus Market. Cal Poly Eggs is an enterprise project, giving students hands-on experience in egg production. Cal Poly egg sales have enabled the college's poultry program to be largely self-funded; profits from egg sales buy supplies and equipment and support students who gain work experience in the commercial egg industry.
---
Cal Poly Jam
Cal Poly Food Science & Nutrition students have been making jam on campus for more than 40 years. What began as a food science lab exercise has grown to become a successful student-led commercial enterprise producing more than 15,000 jars annually. All products are produced in building 24 in the Food Science and Nutrition Pilot Plant where students work on a small-scale processing line.  Students design, produce, package and market products under the direction of faculty and staff.  There are currently four jam flavors, but our students are always thinking of new product ideas!
Olallieberry Jam
Our most popular flavor and question!  "What is an Olallieberry?" An olallieberry is a cross between a raspberry, dewberry, and a blackberry.
We source our Olallieberry's from one our alumni's organic family farm in Aromas, CA.  The olallieberry is unique to the Central Coast and is our original jam that has been produced in our labs for over 40+yrs! Be sure to grab a few jars - it is enjoyed by ALL.
Raspberry Jam
A tart jam, that's perfectly balanced to be used for desserts, or slathered on your toasted English muffin. 
Blackberry Jam
A yummy jam with nice chunks of berry in the jam.
Strawberry Jam
Seasonally made with Cal Poly Strawberry Center Strawberries. Since this item is seasonally made, if you see it on the shelf, grab it! It sells out quickly and is delicious.
---
Cal Poly Meats
Cal Poly Meats offers fresh beef, pork and chicken cuts and specialty meats and packages, including bacon, sausage, jerky, hot dogs, ribs, brisket, tri-tip, and fajitas. Students in beef, swine and poultry production and evaluation classes evaluate the meats and grade them according to U.S. Department of Agriculture standards, then cut, produce and package the meats as part of their classes. Their products are then sold to public. Cal Poly Meats is open to the public every Thursday and Friday from noon - 5 p.m and Saturdays from 10 a.m.- 2 p.m. for retail services. Learn more here.
---
Cal Poly Organic Produce
The Cal Poly Organic Farm is an 11-acre production unit that is certified organic by California Certified Organic Farmers (CCOF). Student-grown organic vegetables and seasonal fruits are sold at our on-campus Farm Stand on Wednesdays and Fridays from 2 – 5:30 p.m., Saturdays from 10 a.m – 2 p.m., and at area farmers markets — Thursdays in downtown San Luis Obispo from 6 – 9 p.m. and Saturdays in Madonna Plaza from 8 – 10:30 a.m. Seasonal U-Pick crops are available year-round. Organic produce is only available for purchase at these two off-campus markets. For more information, click here.
---
Poly Plant Shop
Poly Plant Shop is a commercial nursery and florist and is open year-round to the general public. The plant shop holds special sales events for various plant and flower enterprise projects throughout the year, including the holiday Poinsettia project and the spring Tomato Mania project. Year-round offerings include potted plants, bedding plants, houseplants, cut flowers, and flower arrangements. Metered parking is available at the shop, which is located on Via Carta across from the Equine Unit. Take the Highland Drive entrance to campus all the way to Via Carta; turn left at stop sign. Learn more here.
---
Cal Poly Wine
Cal Poly wines, and the vineyards they came from, have had a long-standing tradition of producing quality wine. Starting with the 2006 vintage, Cal Poly established relationships with local wineries. The nearby locations allow student winemakers to maintain close ties with the wines during the entire process – from vineyard to bottle. Since 1901 Cal Poly has been committed to educational excellence and a Learn by Doing philosophy. We are proud to present this premier wine, representing a collaborative effort by viticulture, enology, and wine business students in the Cal Poly Wine and Viticulture Department. You can purchase Cal Poly Wine here.
Related Content