The Ties That Bind: Family, Rodeo and Giving Back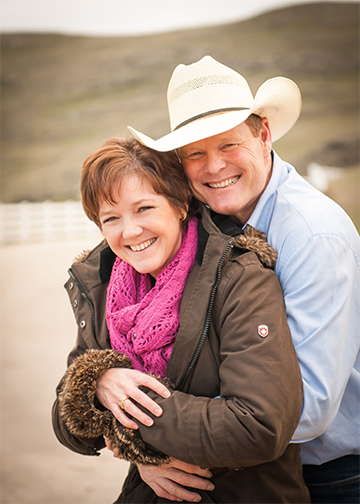 For Clint and Connie Pearce rodeo isn't just a sport, it's an enduring love story. The husband and wife, both with deep ties to Cal Poly, met on the high school and college rodeo circuit, and have been together ever since. 
It's a passion that was passed on to them by their families and one that they have shared with their own children, son Dalton and daughter Audrey (Agricultural Communication, '16 and Psychology, '18). "I always knew that was the place where I stayed centered, was mentally at my best and stayed physically healthy," Connie Pearce said. "I wanted my children to have the same experience. Today, I watch my daughter ride and it is simply beautiful to watch."
Their connection to Cal Poly runs as deep as their love for rodeo. Connie, the youngest of four siblings of Alex and Phyllis Madonna, who built the iconic Madonna Inn in San Luis Obispo, said it has been a long family tradition to support the Cal Poly Rodeo program, something they first started in the 1950s.
Clint (Agricultural Business, '91), whose parents both attended Cal Poly, and Connie, whose siblings all attended Cal Poly, have continued that tradition by providing a space for the Cal Poly Rodeo Team to hold their annual banquet and providing other vital support behind the scenes to the program. Their contributions have allowed the team to focus on gaining additional sponsorships and growing the program.
When I think about rodeo,
I think about the generations of families that have been coming to Cal Poly for years.

— Connie Pearce
"When I think about rodeo, I think about the generations of families that have been coming to Cal Poly for years," Connie Pearce said. "It's like a family reunion when you go to Poly Royal. It's a celebration of Western heritage."
Clint and Connie Pearce started a rodeo team at the local community college, Cuesta College, five years ago when their son attended the school, in part to create a feeder team for the Cal Poly Rodeo program. The team ranked second in the West Coast Region and fourth in the nation at the College National Finals Rodeo in 2018. "Rodeo is what drew me to Cal Poly and what kept me going strong to finish," Clint Pearce said. "Rodeo is a special part of our culture on the Central Coast and Cal Poly's history. It has always been very impactful in our lives and I really feel strongly about having a role in helping it continue and flourish in the future to benefit a lot more student athletes."
Clint Pearce said his philosophy is to be where you are needed. "A lot of people can write a check and that can be very helpful," he said. "The best way for us to help out is by giving our time and helping with the hospitality side of things because that is what we do. We try to contribute where it is meaningful and where there might be a void that we can help fill."
---
Return to the Giving Report to read more.
Related Content