Cultivate Fall 2017
FROM THE DEAN
We welcomed students and faculty back to campus in mid-September, and have been off and running since then.
As many may have heard, it was Cal Poly's biggest freshman class in years, with 280 more students than initially targeted entering the college, and nearly 900 more students on campus overall.
This enrollment increase was due to the increased yield of incoming freshmen and transfer students who accepted Cal Poly's offer of admission, in part because the university's longstanding "early decision" practice was eliminated, causing greater variability in modeling.
While not planned, it nonetheless underscores the strength of the Cal Poly brand, as well as the need to continue to modernize and enhance our infrastructure throughout the college.
We are still teaching and conducting research in facilities that were old when you were students, and they're not exposing students to the current technologies they'll be working with in their careers. Currently under development, the Science and Agriculture Teaching and Research Complex is one of the most critical of these projects. It's a partnership between the colleges of Science and Mathematics; Agriculture, Food and Environmental Sciences; and Liberal Arts to create a building entirely focused on teaching young people to think critically. Our portion, which has been kick-started by funding from the J.G. Boswell Foundation,will feature 12 labs that cross the spectrum of the college, from plant pathology and animal physiology to culinary and product development.
We are also building a new Center for Wine and Viticulture, in the home stretch of funding and expected to break ground in 2018, as well as in the planning stages of the new Plant Sciences Complex that will replace the old crops unit off Highland Drive.
I invite you to continue to stay updated on these projects and more, and help where you can. It's up to all of us to ensure that tomorrow's students have the same incredible experiences that we did.
ANDREW J. THULIN, DEAN
College of Agriculture, Food and Environmental Sciences
Features
---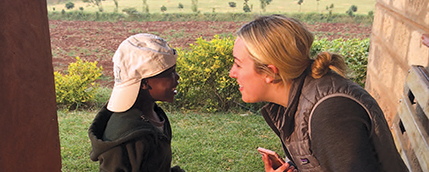 CHILDREN OF HOPE
Eleven Cal Poly students and two professors with diverse academic backgrounds spent three weeks this summer in July at the Children of Hope orphanage in Kikuyu, Kenya as part of the Internship in Agriculture class.
 

ALUMNI FEATURE
At 10:45 a.m. on May 21, Cal Poly alumnus John Stenderup (Agricultural Business, '08) walked onto the summit of Mt. Everest – making him one of less than 5,000 people worldwide to ever do so.
 

OPPENHEIMER FAMILY EQUINE CENTER
Construction on the first phase of the Oppenheimer Family Equine Center began in July, paving the way for a new covered riding arena, foaling barn, stallion barn, and hay barn at the northern end of Cal Poly's campus.
Q & A
Rodrigo Manjarín, assistant professor in the Cal Poly Animal Science Department, is overseeing a cutting-edge research project focused on non-alcoholic fatty liver disease using a special breed of swine from Spain called Iberian pigs.
STUDENT SUCCESSES
A look at the achievements of CAFES students over the course of the year.

Related Content