News and Notes - Spring 2022
Honored Alumnus
Walter J. Ruzzo (Natural Resources Management, '78) was named the College of Agriculture, Food and Environmental Sciences' 2021 Honored Alumnus. Ruzzo, a retired leader of environmental health and safety in the mining and biopharmaceutical industries, has served on the college's Natural Resources Management and Environmental Sciences Department Advisory Council since 2012, and as its chair since 2013. In this capacity he provides frequent guidance and counsel to the dean, department head and other college leadership and serves as a mentor and resource for students.
Ruzzo is actively involved with Swanton Pacific Ranch, currently serving as the chair of the Swanton Pacific Ranch Advisory Council and as a member of the core planning team to create a new strategic intent following the CZU Lightning Complex fires that badly damaged the ranch in August 2020. He represents Cal Poly and Swanton Pacific Ranch as the secretary of the Central Coast Rangeland Coalition.
He is also deeply involved with Cal Poly's nationally ranked logging team, frequently traveling with the team to competitions in California and throughout the western United States. He serves as a judge at competitions and a mentor to many of the student competitors. In addition, he serves as a volunteer judge for the Forestry Challenge (a nonprofit for high school students interested in forestry and natural resource careers) and uses this platform to recruit forestry students to apply to Cal Poly.
Watch a video at: alumni.calpoly.edu/2021-honored-alumni.
Ag Showcase
Ag Showcase, the college's largest student-run career fair, was held on campus in January, connecting students with more than 50 prospective employers and internship opportunities in a diverse range of fields.
Commencement
Cal Poly hosted two ceremonies honoring its graduates in December — the 38th annual fall commencement, celebrating the fall Class of 2021, and a special, in-person name recognition event for graduates of the Class of 2020.
Director of Grimm Family Center for Organic Production and Research
Matthew Grieshop joined the College of Agriculture, Food and Environmental Sciences in January as the director of Cal Poly's new Grimm Family Center for Organic Production and Research. Prior to joining Cal Poly Grieshop was an associate professor of organic pest management and director of the Sustainable Farming and Food Systems academic program at Michigan State University.
Cal Poly's new Center for Organic Production and Research will integrate the greatest talents in academia, private industry, government and a wide range of disciplines to benefit the organic industry. "I am thrilled to welcome Matthew Grieshop to the team as we prepare to launch a unique learning model that will enable research and innovation across disciplines, focusing on real-world issues that directly impact the state's multibillion-dollar organic industry," said College of Agriculture, Food and Environmental Sciences Dean Andrew Thulin.
New Fall Career Fair
The new CAFES Connections: Fall Career Networking Event hosted 16 employers, giving students the opportunity to meet with them to discover new career and internship opportunities. Employers attending included Nutrien, the J.M. Smucker Company, G3 Enterprises, Inc., American AgCredit, San Luis Obispo Botanical Garden, Sierra Pacific Industries and Superior Foods International, LLC
Unified Wine and Grape Symposium
The College of Agriculture, Food and Environmental Sciences and the Wine and Viticulture Department attended the Unified Wine and Grape Symposium, held in Sacramento in January.
Salmonson Scholarship
Aidan Inoue and Sydney Horne, both agricultural and environmental plant sciences majors, received the John and Carol Salmonson Scholarship for Excellence in Agriculture. The scholarship was created by John Salmonson (Crop Science, '67) and his wife, Carol, in 2016 to benefit students with an interest in becoming a pest control advisor or similar career path. This is the fourth year it has been awarded.
Antle Scholarship
Fourth-year wine and viticulture major Isabel Estrada-Sanchez, fourth-year agricultural and environmental plant sciences majors Paola Guido, Angel Ramirez Reynozo and Beatriz Rosas, and fourth-year nurtition major Nikki Vargas received the Rick Antle Memorial Scholarship which was established in 2018 to honor Rick Antle's (Crop Science, '79) legacy in the agriculture industry and aid students in financial need from the Monterey County area.
Edward & Helen Silva Memorial Internship Endowment
In October the Agricultural Operations staff gathered to host the annual Silva barbecue, celebrating the many students who support agricultural operations on campus. The student jobs are funded by the Edward W. & Helen E. Silva Memorial Internship Endowment, which was established by his family in 1989 upon the passing of Edward Silva as a way of honoring him. His wife, Helen Silva, who passed away in August, was added to the endowment this year honoring her long support of Cal Poly. The endowment began providing internships to students in 1999 and continues to offer students the opportunity to have the Learn by Doing experience at Cal Poly. It is awarded to exceptional student assistants recognized by the Agricultural Operations staff, providing recipients the opportunity to gain hands-on experience and expand their work skills.
World Ag Expo
The College of Agriculture, Food and Environmental Sciences and Cal Poly Alumni held a mixer for alumni and industry friends during the World Ag Expo on Feb. 9.
Swanton Pacific Ranch Revisioning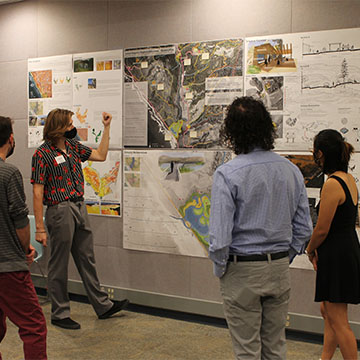 Four groups of students enrolled in an advanced Landscape Architecture studio, LA403 Natural Systems Design Studio, collaborated with Swanton Pacific Ranch in the fall quarter to collaborate on the redevelopment of Swanton Pacific Ranch after the CZU lightning complex fire in 2020. The students sought to provide a comprehensive master plan reflecting the ranch's vision and integrating programs that embrace the characteristics of the region and place, accommodate a variety of educational opportunities, and support its resilience and sustainability. The student designs were shared in an open forum with the campus community and Swanton stakeholders in December.
Schedule of Upcoming Events
APRIL 7-9
Open House
APRIL 9
Tractor Pull at Mount Bishop across from the Crops Unit (1 to 3 p.m.)
Ag Pavilion (9 a.m. to 2 p.m.)
Alumni Beer and Wine Garden at Engineering Plaza (2 to 4 p.m.)
Poly Royal Rodeo at the Cotton Rosser Rodeo Complex (6:30 to 10 p.m.)
JUNE 11
Spring Commencement
---
Visit Cultivate Spring 2022 to read more stories.
Related Content