Class in the Grove
Navigating courses both online and on campus
In a lemon grove alongside the outer perimeter of Cal Poly's campus, a group of students gather among the trees, learning about soil science in an outdoor laboratory that is their only classroom for this fall quarter course.
The Soil Health and Plant Nutrition class, taught by Assistant Professor Charlotte Decock, meets the learning objectives for students seeking to become a certified crop adviser. Typically, students are taught in an indoor laboratory how to understand and interpret soil test reports and then translate those findings to develop nutrient management plans.
This quarter, to keep students safely distanced and reduce the risk of COVID-19, Decock moved the entire course outdoors. "Teaching the class in the field is something I have been thinking about doing anyways," Decock said. "It is about finding a balance between what's done in the lab and developing new activities to give students the experience of what to look at out in the field as well." Those students who did not return to campus are able to join the class via Zoom, with the help of Decock's graduate student assistant Connie Wong, who livestreams the course in addition to helping students in person.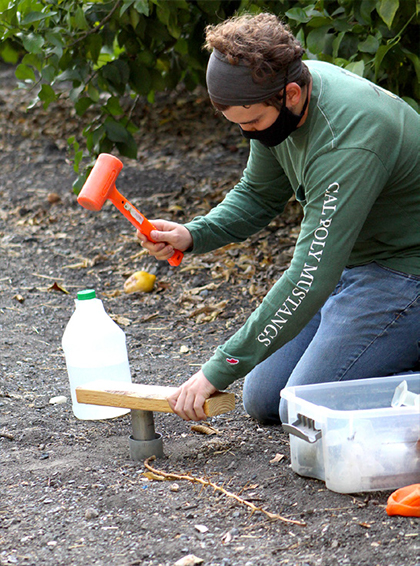 In 2018 Decock was among an interdisciplinary team of professors awarded a grant from the California Department of Food and Agriculture Healthy Soils Program to study the effects of cover crops on soil health. She is now using that as a teaching opportunity for students — setting up an experimental lab in the lemon grove to study carbon sequestration. "Being able to have this trial where I can take students and they see the different measurements is really a great teaching tool," Decock said.
For Anna Rodriguez-Paiatsyka, a transfer student in her second year at Cal Poly majoring in agricultural and environmental plant sciences, the course provides a much-needed respite from a schedule packed with mostly virtual courses. "Doing online learning, I have realized that I miss in-person class communication and activities," Rodriguez-Paiatsyka said. "I like our in-person soil science lab because we get to do fun and educational soil experiments. We discuss different topics as a class and brainstorm together about reasons and solutions related to the topic of the week. As a class, we try to spread out and keep our distance, but at the same time, stay engaged in the learning process."
---
Visit Cultivate Fall 2020 to read more stories.
Related Content