Student Success – Cultivate Fall 2020
Definition of Success
1 a: degree or measure of succeeding b: satisfactory completion of something c: the gaining of wealth, respect or fame 2: a person or thing that succeeds
Agricultural communication sophomore Genevieve Regli and Hayley Fernandes, a junior majoring in dairy science, won the Dairy's Future Leaders contest, part of the California Dairy Sustainability Summit, a program that brings together dairy farmers, state officials, researchers and other key stakeholders to help advance the economic and environmental sustainability of the state's family dairy farms. It is hosted by Dairy Cares, the California Dairy Research Foundation, California Milk Advisory Board, Dairy Council of California and the California Dairy Quality Assurance Program. The contest asked students to share what sustainability means to them and how they envision their futures as leaders in the dairy community. Regli earned first place and Fernandes earned second place; both received a scholarship.
A team of four animal science students took first place at the 2020 Western Section American Society of Animal Science Academic Quadrathlon for the second consecutive year. The competition was held virtually in mid-Ju ly. The team consisted of Nick Eiguren, Megan Groverman, Liv Rubio and Aubrey DeHart, all of whom graduated in spring 2020. The team placed first in every portion of the contest, including the written exam, quiz bowl, lab practical and oral presentation. The team advanced to place third at the national level.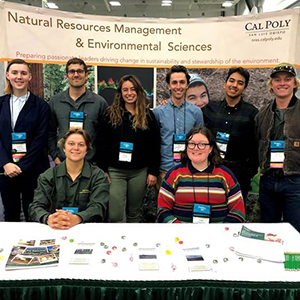 The Cal Poly Chapter of the Society of American Foresters (SAF) was awarded second place for the 2020 SAF Outstanding Student Chapter Award by the national office of the Society of American Foresters in October. The Cal Poly student chapter functions as a professional organization that strives to provide the latest forestry information and contacts for those students interested in forestry or forestry-related careers. The club's past activities have included doing presentations for prospective students at Fall Preview and Cal Poly's Open House, as well as hosting a table at Farm City Nights in downtown San Luis Obispo to interact with the public.
---
Visit Cultivate Spring 2020 to read more stories.
Related Content