Student Success – Cultivate Summer 2020
Definition of Success
1 a: degree or measure of succeeding b: satisfactory completion of something c: the gaining of wealth, respect or fame 2: a person or thing that succeeds
Two Cal Poly students won first place awards at the CSU Student Research competition, which is held each spring to promote excellence in undergraduate and graduate scholarly research and creative activity by recognizing outstanding student accomplishments across the 23 CSU campuses.
Kelly Condron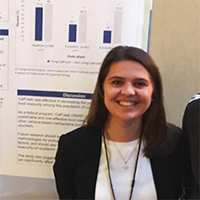 Kelly Condron, a graduate student studying nutrition, presented on the impact of Cal- Fresh Outreach on food security among Cal Poly students. Condron helped launch the CalFresh outreach effort at Cal Poly, a nutrition assistance program funded by the U.S. Department of Agriculture and administered by the state Department of Social Services. The federal program provides funding to low-income individuals or households for nutritious foods at participating stores and farmers markets. On average, Cal Poly students who qualify receive $150 a month to spend on groceries.
Nicole Zeltser
Nicole Zeltser (Animal Science, '20) presented on the impacts of a high-fat and fructose diet and its associations with neuronal loss in juvenile Iberian pigs. The examination is part of a cutting-edge research project, overseen by Assistant Professor Rodrigo Manjarín, on nonalcoholic fatty liver disease using a special breed of swine from Spain called Iberian pigs.
---
Two students received President's Commission awards for their upcoming faculty-sponsored research projects from the CSU Program for Education and Research in Biotechnology, which seeds biotechnology innovation and educates a diverse, professional workforce for California and the global economy.
Priscilla Hsieh
Animal science sophomore Priscilla Hsieh, under the supervision of Professor Ike Kang, will research the conversion of grape pomace, otherwise considered food waste, to a value-added food product such as a hamburger patty. Hsieh will work with Anisse Pereira, a postgraduate fellow in Cal Poly's U.S. Department of Agriculture's National Needs program. Hsieh and Pereira will collaborate with faculty in the Chemistry, Biochemistry, Food Science and Nutrition, and Wine and Viticulture departments.
Lucy Moriarty
Lucy Moriarty, wine and viticulture junior, under the supervision of Associate Professor Jean Dodson Peterson, is researching the response of commercial grapevine rootstock stomatal behavior to water stress and exploring the progression of vine developmental factors as a function of rootstock selection with two other students, Samantha Stauch, a graduate student specializing in crop science, and undergraduate researcher Nathaniel Palmer, wine and viticulture senior.
---
Visit Cultivate Summer 2020 to read more stories.
Related Content