News and Notes – Cultivate Spring 2021
Award of Honor
Karen Watts (Ornamental Horticulture, '79) was named the College of Agriculture, Food and Environmental Sciences' 2020 Honored Alumna. Watts has served on the Dean's Advisory Council since 1999 and as its chair since 2018. In this capacity, she provides frequent guidance and counsel to the dean and other college leadership and serves as a mentor and resource for students. She is the market manager for Nutrien Ag Solutions, the world's largest provider of crop inputs, services and solutions. She started there in 1985, serving in a variety of sales and management positions. As a member of the company's Women's Leadership Group, she is involved with mentoring female employees — as well as college students — on their leadership journeys. In 2019 she facilitated a donation from her company to Cal Poly to help host the first annual Aspire to Grow Conference, at which invited speakers discussed innovation in the food and agriculture sectors and the role diversity of thought and experience plays in achieving that. The conference was held for the third consecutive year in February. Watts frequently visits campus to interact with students and discuss potential career paths with them and has co-hosted numerous events throughout the state to ensure that CAFES and Cal Poly maintain strong connections to its alumni.
New Department Head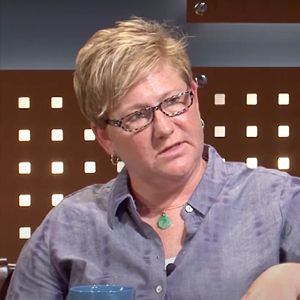 H. Joey Gray became head of the Experience Industry Management Department in March. She was selected for the position following a national recruitment after former Department Head Bill Hendricks moved to an associate dean role. Prior to Cal Poly, Gray spent 14 years at Middle Tennessee State University as a professor in leisure, sport and tourism studies. While there, she founded and led the Sports Analytics Institute Project. She also was the program director for leisure, sport and tourism studies for eight years. Gray earned a bachelor's degree in sport management from Averett University; a master's degree in parks, recreation and tourism management: sport management from North Carolina State University; and a doctorate in leisure behavior: sport management from Indiana University.
2021 Aspire to Grow Conference
The college hosted the third annual Aspire to Grow Conference, exploring innovation in food and agriculture on Feb. 18. The student-planned virtual symposium focused on new technologies and developments and the role diversity of thought and experience plays in achieving these. Speakers included Michael Frank, executive vice president and CEO of retail at Nutrien; Karen Ross, secretary of the California Department of Food and Agriculture; Justin Trabue, alumna and assistant winemaker at Lumen Wines; Patricia Carillo, executive director of ALBA Organics; Surendra Dara, cooperative extension advisor with the University of California Agriculture and Natural Resources; and Fadzayi Mashiri, Mariposa County director/farm advisor. The Aspire to Grow Conference aims to inform and empower students from across campus about the many and varied career opportunities in these industries and create a forum for students to learn from and network with companies for which diversity and inclusion are an essential part of their visions.
Food Science and Nutrition Professor Earns Prestigious CSU Award
Aydin Nazmi, a professor in Cal Poly's Food Science and Nutrition Department and a leader of Cal Poly's response to the COVID-19 pandemic, is one of four faculty members from across the California State University (CSU) system to earn the Wang Family Excellence Award. Nazmi earned the award in the Outstanding Faculty Service category in recognition of his achievements and contributions to the CSU. "I'm humbled to have received this honor," said Nazmi. "I'm fortunate to have had the support of so many colleagues and students over the last year and throughout my time at Cal Poly. I am looking forward to continuing the work in service to our students throughout this public health crisis and to continue to advocate and work toward addressing our students' and community's basic needs in the years to come." Since early 2020, Nazmi has served as the Cal Poly Presidential Faculty Fellow for COVID-19 Response and Preparedness. In this role, Nazmi has been a leading on-campus voice on how to safely house students on campus; how to safely offer in-person courses; how to educate and test thousands of students living off-campus in the San Luis Obispo area; and how to expand both campus testing and surveillance capacity using faculty expertise and on-campus resources.
Meet Our New Faculty
---
Moses Mike
DEPARTMENT: Agricultural Education and Communication
AREA OF SPECIALTY: Digital media and marketing
EDUCATION: Ph.D. in agricultural communication, University of Florida
HOMETOWN: Trinidad and Tobago
CURRENTLY READING: "The Law of Attraction: The Basics of the Teachings of Abraham," by Esther Hicks and Jerry Hicks
FUN FACT: "I had a show on television once … and I'll do it again."
---
Yiming Feng
DEPARTMENT: Food Science and Nutrition
AREA OF SPECIALTY: Food engineering
EDUCATION: Ph.D. in food science and human nutrition, University of Illinois, Urbana-Champaign
HOMETOWN: Ningbo, China
CURRENTLY READING: "The Billion-Dollar Molecule: The Quest for the Perfect Drug," by Barry Werth
FUN FACT: "I am a food scientist but terrible at cooking."
---
Lilli Kaarakka
DEPARTMENT: Natural Resources Management and Environmental Sciences
AREA OF SPECIALTY: Forest management and silviculture
EDUCATION: D.Sc. in forestry, University of Helsinki, Finland
HOMETOWN: Helsinki and Los Angeles
CURRENTLY READING: "The Overstory," by Richard Powers
FUN FACT: "I have lived on three continents and can speak three languages but have a really hard time with direction (left/right)."
Congratulations to Steve McShane (Soil Science, '98) who was honored with the Cal Poly Alumni Association Distinguished Service Award.
---
Visit Cultivate Spring 2021 to read more stories.
Related Content