Student Success
Definition of Success
1 a: degree or measure of succeeding b: satisfactory completion of something c: the gaining of wealth, respect or fame 2: a person or thing that succeeds
Cal Poly Dairy Judging Team
The Cal Poly Dairy Judging Team placed sixth at the Accelerated Genetics Dairy Judging Contest on Sept. 16 in Viroqua, Wisconsin. Twelve colleges from throughout the U.S. were represented at the contest, including teams from Iowa State University, University of Minnesota and Kansas State University.
Team members from L to R: Coach Rich Silacci, Robin Smithling, Samantha Schuessler, Brandon Almeida, Jack Vander Dussen, Michayla Davidson, Danica Valencia, Zayne Evangelo, and Jason Edwards.
Cal Poly Floral Design Team
The Cal Poly Floral Design Team ranked third in the nation at the American Institute of Floral Designer's (AIFD) 2018 Student Floral Design Competition held in Washington, D.C. Alyssa Snow, a junior majoring in agricultural science, placed first in the wedding bouquet category and fourth place in the fashion flower category. She placed third overall in the competition. Allana Childs, who graduated in June with a degree in agricultural and environmental sciences, took third in the interpretive design category and eighth place for her wedding bouquet. Snow was also awarded a scholarship during the awards ceremony for her school fees for the 2018-19 school year from the AIFD Foundation Scholarship Committee. Cal Poly competed against teams from nine other colleges, including the University of Missouri Columbia, Texas A&M, Mississippi State and Ohio State. The team was led by Lecturer Melinda Lynch.
From L to R: Cal Poly Lecturer Melinda Lynch, alumna Allana Childs and junior Alyssa Snow.
Braden Povah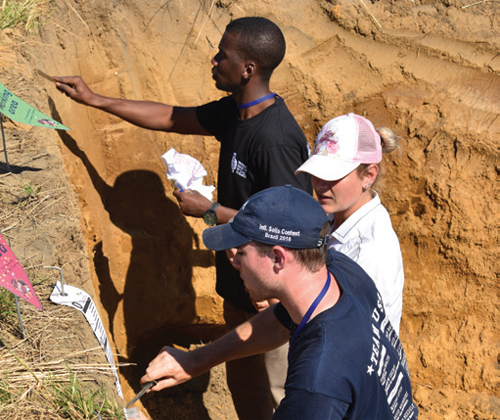 Braden Povah, a senior majoring in forestry and natural resources, took third place in the world as an individual, and was one of four students on the world champion team, at the International Soil Judging Contest held near Rio de Janeiro, Brazil in August. The contest, sponsored by the International Union of Soil Sciences and hosted by the Brazilian Soil Science Society and the Federal Rural University of Rio de Janeiro, had 48 students on 12 teams from 10 countries: United States, Brazil, Mexico, Taiwan, South Korea, Australia, Great Britain, South Africa, Spain, and Russia.
Braden Povah, center, analyzes soil during the International Soil Judging Contest in Brazil.
---
Visit the Cultivate Fall 2018 Page to read more stories.
Related Content