Taiwan: Environmental Management and Sustainability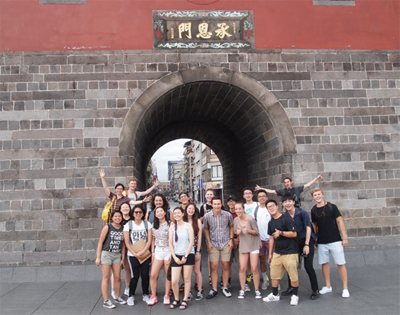 Seventeen students representing a wide range of academic disciplines traveled more than 6,500 miles to Taiwan this past summer to spend six weeks immersed in the culture, learning about environmental challenges ranging from community to global levels.
Professor Yiwen Chiu, an assistant professor in the Natural Resources Management and Environmental Sciences Department, led Cal Poly's inaugural study abroad trip to the island in Eastern Asia. Chiu's area of research encompasses quantitative sustainability, environmental life-cycle analysis, and environmental management. 
Chiu, who was raised in Taiwan and earned her bachelor's degree from National Taiwan University in Taipei, said the country was a perfect destination because it offers a rich biodiversity in a relatively small footprint – making available a gamut of topics to study. 
In just six weeks, students traveled from one of the most densely populated cities in the world, Taipei, to villages in the country's rural mountainous terrain, where agriculture has sustained generations of aging farmers.
This was Chiu's first time leading a group of students abroad. "College is a crucial time for students to start to explore their interests, and as a faculty member at Cal Poly, the most important thing I can do is to facilitate that type of environment," Chiu said. "This was a great opportunity for students to try out and apply the skillsets they have been learning in the classroom and see how they can make an impact."
Cal Poly students from five different colleges representing 12 majors joined the Environmental Management and Sustainability in Taiwan program – making the journey an interdisciplinary learning experience for all involved. Eight bilingual Taiwanese students also joined the cohort, joining the lectures and field trips, while introducing Cal Poly students to the local culture on the weekends.
Environmental management and protection senior Kingston Chen said that the trip expanded his worldview and helped him appreciate the culture and customs of Taiwan at a deeper level. Chen said learning customs such as hospitality from local students helped the Cal Poly students acclimate to the culture. 
Students visited the historic North Gate in Taipei, where they learned firsthand about urban sprawl, population growth and air pollution. "I wanted students to see what action has been taken and how government agencies collaborating with each other were able to make progress," Chiu said.
In Nantou, the only landlocked county in Taiwan, students visited with agriculturalists who are famous for growing Oolong tea. "It is a very rural area, but because of the economic benefits of growing a high-priced commodity, it is also an affluent place," Chiu said. "It gave students an idea of how agriculture can shape a local economy but also of the  environmental implications that can occur when such practices change the natural environment." 
Students also visited the Industrial Technology Research Institute, a national research institute  primarily sponsored by Taiwan Environmental Protection Agency, which represents Taiwan at a global level on issues such as climate change. 
"Visiting places like the institute allows students to see how they can relate their major with actual  action that can change a community or a country," Chiu said. "My hope is that it helped students to  visualize themselves in society that way, as stewards of environmental management."
A second Environmental Management and  Sustainability in Taiwan study abroad trip, led by  Chiu, is being planned for summer 2019. To learn more, visit https://bit.ly/2q5AexH.
---
Visit the Cultivate Fall 2018 Page to read more stories.
Related Content