News and Notes – Cultivate Spring 2020
In Memoriam
Natural Resources Management and Environmental Sciences former Department Head Greg Brown died Jan. 2 surrounded by his wife and family. Brown joined the Natural Resources Management and Environmental Sciences Department in 2016, after serving in academic leadership positions at the University of Queensland, Central Washington University, University of South Australia, Alaska Pacific University, and Green Mountain College in Vermont. He was named one of the world's most impactful scientific researchers by Clarivate Analytics, which recognizes the most frequently cited researchers spanning the globe in 21 fields of sciences and social sciences. "Greg made a tremendous impact during his time here — he was a deep thinker and brought a fresh and unique perspective to the department and college as a whole. I will miss his infectious enthusiasm and commitment to giving his all to everything he approached," College of Agriculture, Food and Environmental Sciences Dean Andy Thulin said.
Honored Alumnus
Kirk Messick (Agricultural Business, '83) was named the 2019 College of Agriculture, Food and Environmental Sciences Honored Alumnus. Messick has had a long and successful career in the agriculture industry. He spent 28 years with the Farmers' Rice Cooperative before launching his own consulting business in 2016. He is well known and respected throughout California and beyond, recognized for his deep connections and steady hand. Messick has been a member of the college's Dean's Advisory Council for 16 years and has played a key role in the college's reimagining of its strategic direction. Messick has donated widely of his time and money, including establishing a Learn by Doing Endowment that provides hundreds of Learn by Doing opportunities for students. Messick's wife, Mary, is also a Cal Poly alumna, as are their three children.
Unified Wine and Grape Symposium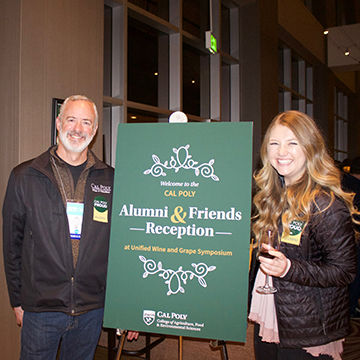 In February, students, staff and faculty traveled to Sacramento to attend the Unified Wine and Grape Symposium, the largest wine and grape industry trade show in North America. An alumni reception was held to share the department's latest news and recent developments of the JUSTIN and J. LOHR Center for Wine and Viticulture.
Memorial Rose Garden
More than 150 new rose bushes were planted at Cal Poly in December to honor former horticulture and crop science Professor Daniel Lassanske, who passed away in 2018. In addition to planting new roses, decorative deer fencing was installed. The new roses were donated by former student Scott Klittich of Otto and Sons Nursery in Fillmore, California, and the Farm Supply Co. Cal Poly faculty, students, staff, as well as retired faculty and staff and former students, and volunteers in the local community, planted the roses. The Cal Poly Rose Garden is located directly north of the Spanos Stadium on California Boulevard. Lassanske was recognized by the horticulture industry on several occasions for his outstanding teaching, service and leadership, including the designation of a special rose named in his honor by Disneyland.
Ag Showcase Career Fair
Cal Poly's Agribusiness Management and National Agri-Marketing Association Club hosted the annual Ag Showcase Career Fair in January, featuring more than 100 companies spanning the agricultural industry. The event gives students the opportunity to network with company representatives about potential jobs and summer opportunities. Company representatives get the opportunity to showcase their firms to Cal Poly students who have proved over the decades to be day one-ready employees.
Regenerative Agriculture
A Regenerative Agriculture Field Day was held at Swanton Pacific Ranch in January as a featured event prior to the annual EcoFarm Conference to discuss the value of biodiversity and the future of agriculture and food systems. Featured speakers included an international lineup with Nicole Masters of Integrity Soils, New Zealand, Jonathan Lundgren of Ecdysis Foundation and Blue Dasher Farm, South Dakota, alongside ranchers Loren Poncia (Dairy Science, '98) of Stemple Creek Ranch, Kara Porterfield, current livestock manager at Swanton Pacific Ranch, and Gordon Claassen, former livestock manager at Swanton Pacific Ranch. A donation made by Kat Taylor and Tom Steyer of TomKat Ranch paid for five Cal Poly students to attend the Swanton event and provided an additional five scholarships to attend the EcoFarm Conference.
World Ag Expo
In February, students, staff and faculty hosted the college's annual alumni reception at the World Ag Expo at the International Agri-Center in Tulare — the largest annual outdoor agricultural exposition.
Topcon Helps Students Survey the Future
Topcon Positioning Systems, a global leader in designing and manufacturing precision- positioning equipment and solutions for global surveying, construction, agriculture and civil engineering, has initiated a University Partnership Program with Cal Poly to donate surveying and automation equipment to help train students across campus in surveying and precision agriculture. Topcon leaders Mike Gomes (Agricultural Business, '91) and Paul Stepanek (Agricultural Engineering, '88) were instrumental in developing the partnership and are continuing to create opportunities for Cal Poly faculty and students to receive cutting-edge technology and training in and out of the classroom, including through internships based at their Livermore, California, headquarters.
Excellence in Agriculture
Anthony Augusto and Megan Campbell, both seniors majoring in bioresource and agricultural engineering, received the John and Carol Salmonson Scholarship for Excellence in Agriculture. The scholarship was co-funded by John Salmonson (Crop Science, '67) and his wife Carol and Brandt Consolidated in 2016 to benefit students with an interest in becoming a pest control advisor or similar career path. This is the fourth year it has been awarded.
Rick Antle Memorial Scholarship
Pictured from left to right: Rafael Alfaro, a senior agricultural and environmental plant sciences major, Marley Sollecito, a junior agricultural business major, Petrina Pinto, a senior agricultural science major, Samantha Santos, a sophomore agricultural communication major, and Jose Vargas, a senior agricultural business major, received the Rick Antle Memorial Scholarship, which was established in 2019 to honor Rick Antle's legacy in the industry and aid students in financial need from the Monterey County area.
---
Visit Cultivate Spring 2020 to read more stories.
Related Content