Growing Up: Alumnus Creates Vertical Gardens Blending Art and Horticulture
David Brenner (Environmental Horticulture Science, '09), founding principal and lead designer of the San Francisco- based Habitat Horticulture, uses plants to breathe life into spaces often barren of natural splendor.
I got into this because of my love for creating calming spaces that can lead to an emotional transformation.

— David Brenner
Considered a pioneer of vertical gardens, Brenner has done installations at the San Francisco Museum of Modern Art (the largest installation of its kind in the country), California Academy of Sciences in Golden Gate Park, Facebook, Stanford Graduate School of Business, and most recently at the top two floors of Salesforce Tower, the second tallest building on the West Coast at 61 stories in downtown San Francisco.
It was tucked away in a small greenhouse off the beaten path during his time at Cal Poly that Brenner honed his passion. He first encountered vertical gardens during an internship at the Royal Botanic Gardens in Kew, London, quickly becoming enamored with the way that they brought greenery into urban spaces. In the small, nondescript Cal Poly greenhouse he experimented with growing plants vertically, cultivating the foundation of the work he now does at Habitat Horticulture for clients all over the West Coast.
"I got into this because of my love for creating calming spaces that can lead to an emotional transformation," said Brenner, who holds a minor in psychology. "I try to create places that allow you to stop and take a breath of fresh air for a second — in urban places you feel the transformation so much more."
Brenner created a vertical garden for his senior project in the Horticulture and Crop Science Department's main offices near the atrium, his first installation. Today, his work is an iteration of that first foray into vertical gardening, adapting over time to be more sustainable using a hydroponic system for plant longevity. Brenner's installations are found not only in public places such as the Foundry Square, but within private residences, health care facilities and soon — Cal Poly.
Brenner is in the process of creating two installations for his alma mater — a living wall for the new Vista Grande three-story dining complex anticipated to open in early 2020 and an installation for the Cal Poly Plant Conservatory.
"It is all about creating an experience, what you can do with the plants and what is appropriate for the space ," Brenner said. "All installations evoke a sense of place by incorporating the elements of the immediate surroundings. Every plant has its own character and we carefully choose them for each project to have the most impact."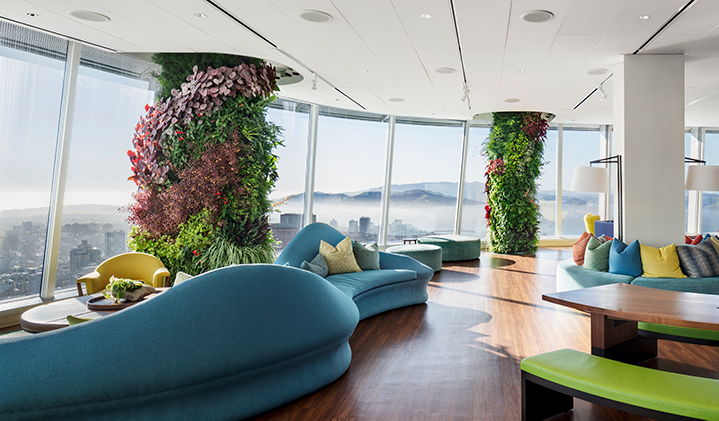 Salesforce Tower, San Francisco

Facebook

California Academy of Sciences

San Francisco Museum of Modern Art
Stanford Graduate School of Business
---
Visit Cultivate Fall 2019 to read more stories.
Related Content